Integran has recently developed a line of antiviral/microbial (AVM) polymer coatings for diverse applications
The AVM coatings rapidly and continuously kill pathogens on contact.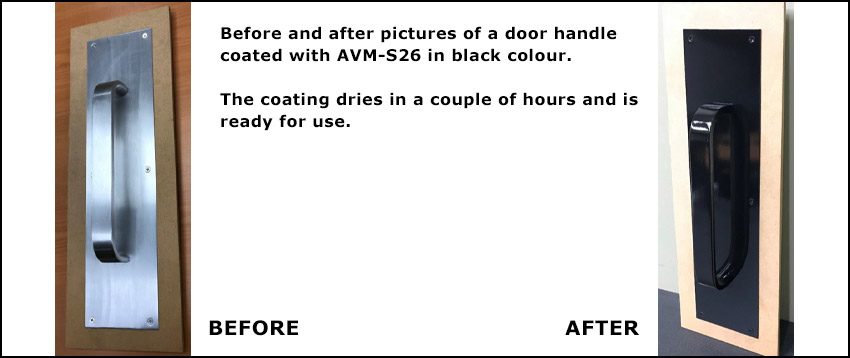 Reducing the spread of viruses, bacteria, and fungi by fomite transmission.
Reducing the time and effort needed to clean, sanitize and disinfect surfaces.
Reducing the amount of cleaning, sanitizing and disinfecting products that are needed.
Utilize EPA Registered antimicrobial additives.
Have antibacterial efficacy verified by independent laboratory testing against MRSA based on ISO 22196. Additional antimicrobial and antiviral testing is ongoing.
Fluorocarbon-free and low-VOC.
Utilize Integran's patented and proprietary hydrophobic/easy-clean polymer technologies.
Patented: US 20210017395 (allowed); US 20210017399 (allowed)
Nanovate™ Coatings on Polymers and Polymer Composites by Electrodeposition
Integran Nanovate™ on Plastics
High Tech, Cost Effective Solution for Structural Frames
Plated plastic part matches stiffness of Mg at lower weight
Improved strength and impact resistance compared with Mg
Nanovate™ plated parts are lower cost than Mg co-molded with plastic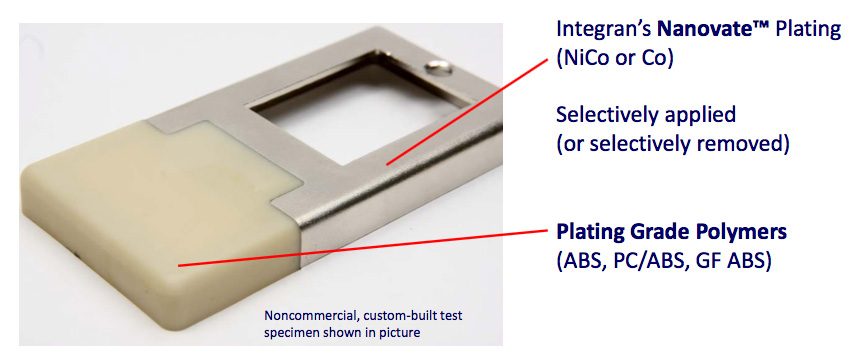 Nanovate™ plating also provides a
Conductive surface for EMI shielding and grounding (solderable)
Product Validated by US OEM
Tablet-style housing
Mg-replacement with Nanovate™ N1210 NiCo on GF-ABS
Lower part weight achieved
Improved drop performance by >50% without screen cracks
Nanovate™ process licensed to a POP supplier in ShenZhen China
Automated line set-up for mass production
Ready to quote new business
Integran Technologies has also developed a thin film technology for use in PCB manufacturing stencils.  Integran's best-in-class Nanovate™ Stencil Foils combine the speed and cost savings of modern laser cutting technology with the durability and performance of electroformed nickel stencils.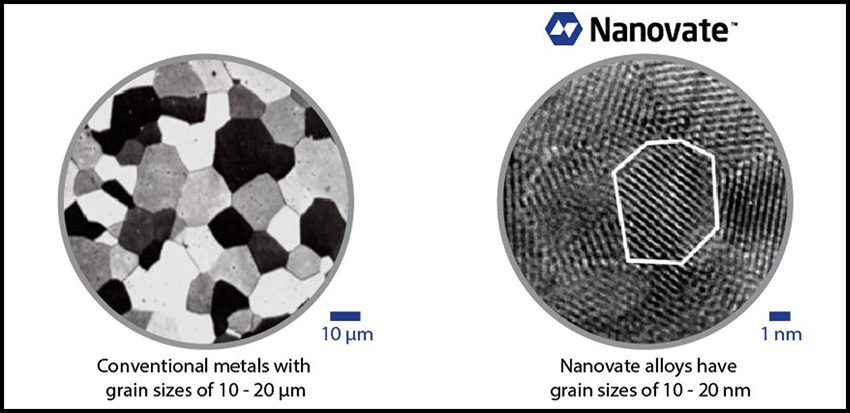 Nanovate™ is known across industries for its outstanding mechanical properties.  Its high hardness and low coefficient of friction make for the longest lasting material on the market.  Both your squeegee and stencils will last longer.  The high yield strength allows usage of thin gauge sections.  We offer down to 0.001" thick as custom orders.